"It is a period to which many of us have been anxiously looking forward for long years ". These words written by Neutra early in the program shows how the Case Study Program was an expected event. Indeed, Neutra wore a constant interest in innovation in the field of design and construction of individual houses. During these long years, Neutra thought to bring out of the home craft to industrialization. The two-bedroom house is a problem that has already solved many times. Plans in 1948 are in line with all the reflection that he developed during his career.


The constructive options:
Assembling a prefabricated core services and containing wet and heating installations was a limiting factor of the plan.
This core was placed so as not to prevent future extensions of the villa.
In a second step, an extension was added to the south in 1958.

Figure 1::
The house has an L-shaped plan with the dining room and living room facing south open on a "social" patio bordered by giant Eucalyptus.
Both bedrooms have their own open to the west garden.
The composition of the house based on a frame alternating category successively 10 feet and 4 feet.
The combination of these two measurements: a structural dimension and the dimensions of prefabricated wet core which houses all services (kitchen and bathroom) for the 10 feet.
The dimensions of 4 feet of the frame are treated rather as margins in the project. All circulations are collected. It allows to arrange a set of continuities and transparency through the project. It also allows the posting of items.. Elle autorise également le détachement des éléments.
The structural system is not emphasized in the project. The structure has no presence or strong or rhythm in the project.
Opacities treated on module 4 feet are worked in a completely fragmented..
They support many advanced and Returns indoor and outdoor play areas.
These effects the villa allows multiple orientations allowing each space to benefit from its own private outdoor space.
The roof is covered in this same principle. It is widely comes in front of the façade is thus withdrawn leaving the elements exceed in height as chimneys ..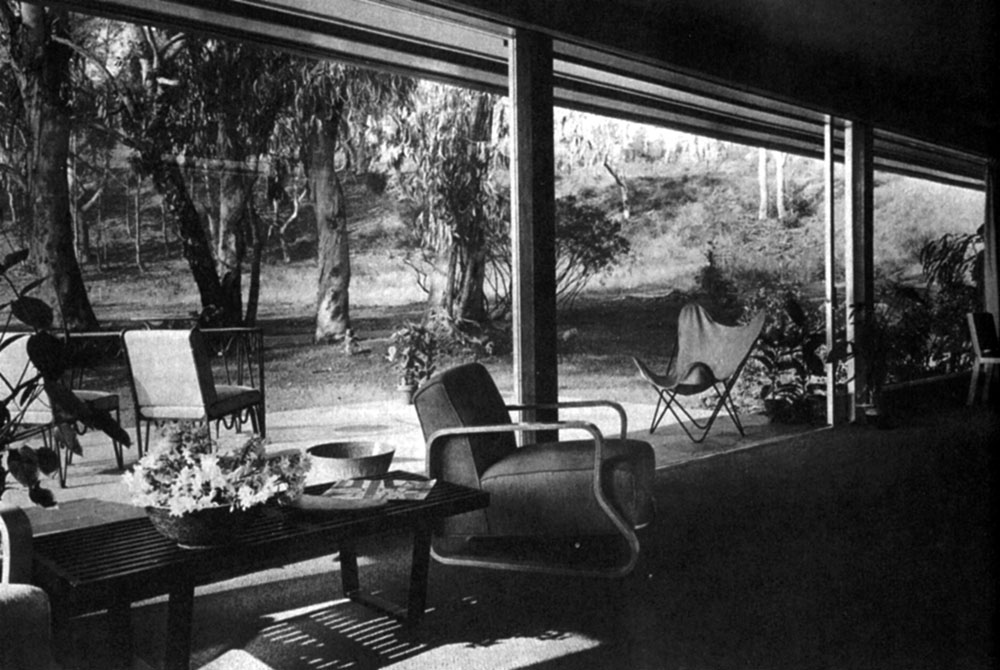 Figure 2:

This diagram shows the north side of the house, it helps to understand the relationship maintained by the spaces of the house with the environment.
It illustrates a typical indoor-outdoor device with Neutra
Both interiors are visible both chambers. Same size, the relationship of their interior spaces with the exterior space is treated with the same repeating pattern that creates an effect of outside in space.